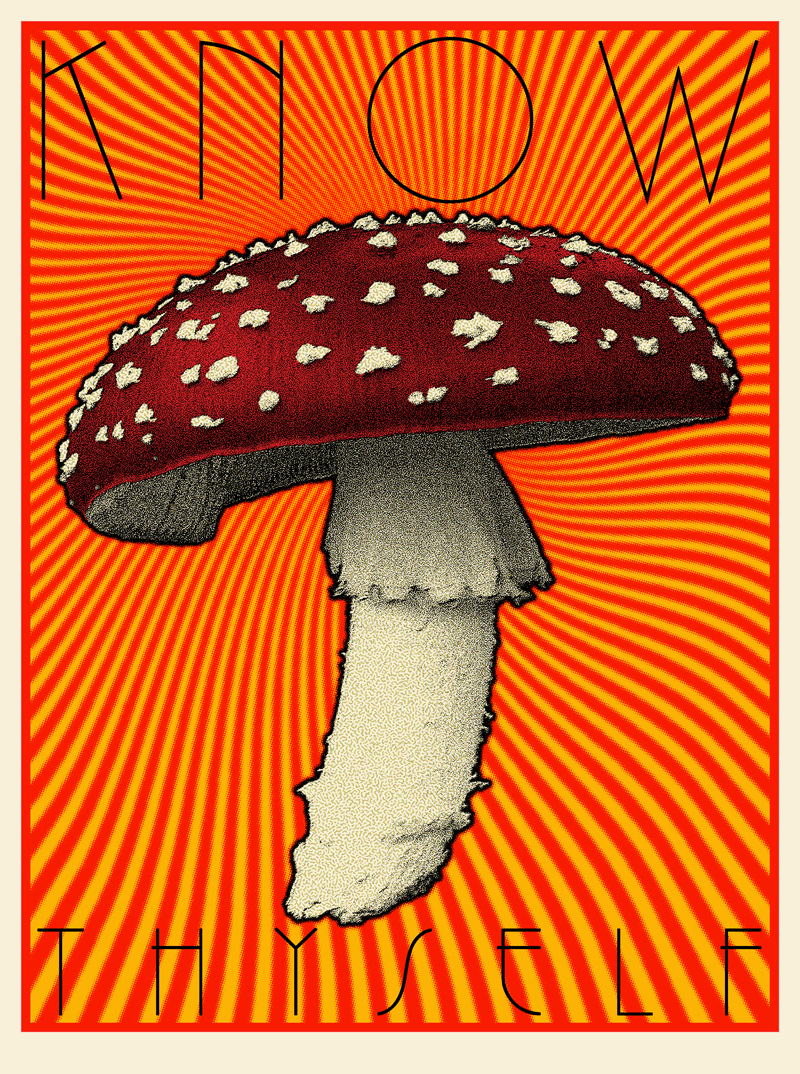 Know Thyself, 2018
19 x 25.5
Edition of 100
4 colors on cream paper
Signed and Numbered
I was blessed to have visited Delphi – the navel of the earth – on the autumnal equinox this last month. Delphi is the site of a major temple to Apollo, as well as the famous oracle. Carved into the temple was the phrase: γνῶθι σεαυτόν – [gnōthi seautón] – "know thyself." Ancient wisdom fitting seamlessly with the illuminating psychedelic influence of the mushroom, my printing-fingers got to work!
This poster will be available at The Compound Gallery at the opening for "Hi-Fructose Presents: The Art of The Mushroom" on Saturday, October 20, 2018 at 7 pm.
Hi-Fructose Presents: The Art of The Mushroom
Opening Reception: Saturday, October 20th 7-10pm
The Compound Gallery
1167 65th St, Oakland, California 94608
Show Dates: October 20-December 9, 2018
This special show is an exploration into artists' interpretations of the friendly, deadly, tasty, hallucinogenic, phallic, alien, and legendary mushroom.
Opening Reception featuring an interactive photo booth by Attaboy. So be Red Carpet Ready! Many artists will be in attendance at the opening. More information coming soon.
To receive a collector's preview of works made specifically for this show contact: [email protected]
Featuring work by: Andrew Schoultz, Naoto Hattori, Chuck Sperry, Annie Owens, Steven Cerio, Marion Peck, Mark Ryden, Travis Louie, Travis Lampe, Attaboy, Isabel Samaras, Michael Campbell, Martin Ontiveros, Gary Taxali, Michael Reedy, Nicomi Nix Turner, Mark Dean Veca, Ferris Plock, Jennybird Alcantara , Yoko d'holbachie, Skinner, Ellen Jewett, Brandi Milne, Marco Mazzoni, Kii Arens, Graham Yarrington, Erika Sanada, Junko Mizuno, Renee French, Crystal Morey, Smithe, Scott Musgrove, Charlie Immer, Horrible Adorables, Laura Berger, Christophe Gilland, Casey Weldon, Wayshak, KRK Ryden, John Casey, Dave cooper, Rob Sato, Joe Vaux, Dave Correa, Robert Bowen, Tripper, Bwana Spoons, Gosia, Miles Johnston, Christina Mrozik, Matt Gordon, Alex Pardee, Tristan Eaton, Johnny KMNDZ Rodriguez